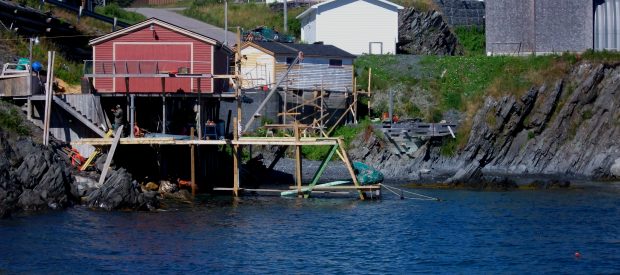 Offer starts May 1, 2021 – Sept. 15, 2021 Only $599 plus HST based on double occupancy – 3 nights – 3 breakfast – 3 Newfoundland Dinners for TWO
Just a short journey from St. John's you'll find the scenic Baccalieu Coastal Drive; one of the earliest European-settled parts of the island and dotted with historic towns like Cupids, Brigus, Harbour Grace, and Dildo. Here, the sights and sounds can feed the foodies, the sightseers, and the romantics alike. A trip like this can bring out the romantic in anyone; especially considering you'll be travelling through Heart's Content, Heart's Desire, and Heart's Delight. Hiking trails abound in this area; keep your eyes peeled for views of whales and icebergs. Tap rooms, microbreweries and local restaurants offer food and drink for the thirsty traveller.
Head out from the city on Topsail Road, Route 60. Your first stop should be the Manuels River Hibernia Interpretation Centre to see some rare fossils. Fossils identical to these have been found in Spain, Portugal, and North Africa, and helped prove the theory of continental drift.
Drive around the shore to Brigus, visit Hawthorne Cottage National Historic Site once home to famous Arctic explorer Captain Bob Bartlett. Bartlett joined Robert Peary on his expedition to the North Pole in 1908, and spent most of his life exploring the north. Don't miss Wilcox Gardens, Ye Old Stone Barn, Pinkston Fordge, Brigus Tunnel, Kent Cottage or check out HGTV'S – Rock Solid Builds draw dropping rennos & builds.
Next stop is Cupids, site of Canada's first English colony from 1604. Drop by the Legacy Centre to explore the town's unusual history, and then look over the shoulders of archaeologists at work. Nearby is Perchance Theatre, performing works from classic Shakespeare to modern comedy in an open-air venue inspired by early 17th-century London playhouses. Hike to the top of Cupids Hill to Spectacle Head and enjoy the spectacular views!
Head on down to the Silverwood Inn for a flavourful Steak Dinner with large Newfoundland Scallops and a comfy sleep!
Good Morning! Your Newfie Breakfast Awaits!
Start your day in Bay Roberts, and set aside some time to check out the work of Christopher Pratt. Perhaps the best-known visual artist from Newfoundland and Labrador, his art is on display in the gallery at the Cable Building, which also houses the Road to Yesterday Museum. Further east is the Shoreline Heritage Walking Trail through Juggler's Cove to Mad Rock, where you can see whales & icebergs in spring & early summer. There are three scheduled guided tours – Heart of Heritage Tour, Cellars & Songs Tour, and Toutons & Tunes Tour.
Off to Port De Grave to photograph the striking coastal scenery and fishing village. Tour the Fishermans's Museum & Porter House a one-room schoolhouse. Drive out on the Marina to see the vibrant fishing boats and across the road take Light House Road for spectacler ocean views from the Light House.
Spaniard's Bay is a community whose name reflects an era when Basque fisherman frequented Newfounland waters. Spanish influence ended with defeat of the Spanish Armada in faraway Europe in 1558.
Harbour Grace is where the pirate Peter Easton had his headquarters in the 17th century. The site, ironically, became a jail and courthouse much later. Get out and walk the town to see its gorgeous heritage architecture. The famous American flyer Amelia Earhart launched her 1932 flight to Europe from Harbour Grace, to become the first woman to fly the Atlantic solo. A statue of Earhart stands at the entrance to the town, and the airfield she and other aviators used is nearby.
End your day with a Beach Boil Up of Jiggs Dinner & other Newfoundland Treats!
Catch up in the Newfoundland Heritage Coffee shop or sit & relax in the lounge.
Good Morning! Hearty Breakfast for the Beach!
Off to Carbonear, site of settlers' resistance against French invaders in the late 17th and early 18th centuries. Harbour Rock Hill offers spectacular view of Carbonear Harbour, including Carbonear Island.
On to Salmon Cove for a stroll along one of the few sandy beaches on the Avalon Peninsula, Salmon Cove Sands and Northern Bay Sands. A two-kilometre hiking trail and warm water river offer activities for the whole family.
At Bay de Verde, the shallow harbour glows aquamarine, hence its name. Blundon Heritage Premises offers a glimpse into the history of this famous fishing town, plus a display on seabirds that nest at the nearby protected ecological reserve on Baccalieu Island.
At Redhead Cove, you'll see by the color of the cliffs where this community got its name. The wrecks of more than a dozen ships lie under the waters surrounding the island.
Baccalieu Island Ecological Reserve has the most diverse seabird colony in the province. The island host 3 million pair of night-flying leach's storm petrels, and thousands of puffins and black-legged kittiwakes and other birds each summer.
End the day as far North as you can get on the Baccalieu Coastal Drive. Grates Cove hosts an unusual National Historic Site on its barrens – rock wall gardens used to keep roaming livestock out of vegetable plots.
Back to the Silverwood Inn for another Newfie Scoff and relaxing evening!
Good Morning! A hearty breakfast awaits! Parting Newfoundland Gift
Communication is what keeps the love flowing in any relationship. So it makes no wonder that the first transatlantic telegraph cable was landed at the small community of Heart's Content in 1866. The old cable station stayed in business for a century until replaced by satellites, and is now a Provincial Historic Site.
Romance is definitely the theme in these parts, though. You've visited Cupids and Heart's Content and you've yet to see the communities of Heart's Desire, Heart's Delight and, across the bay, Little Heart's Ease.
And, around here, any romantic worth their salt has to know their way around a set of oars. The town of Winterton boasts the Boat Building Museum of Newfoundland and Labrador. Here, you can see all kinds of traditional watercraft. Roll up your sleeves and learn how to build a traditional dory or punt.
Travelling south from Heart's Desire, you will find several picturesque communities, with no shortage of photo ops. Colourful sheds abound in Cavendish and you'll want your camera handy when you come across the Shag Rocks in Whiteway. You can stop here and take in a round of golf or continue on to Green's Harbour where you can stroll through a 100-acre English Garden and visit the Newfoundland ponies.
Continue south and you'll find yourself in the infamously named community of Dildo. No one quite knows where the name comes from, but the first historically documented use was Dildoe Island in 1711. Some think it's the corruption of the French word for the island, ile d'eau, owing to its freshwater springs. Others think it comes from the term for the pin on a boat which forms the pivot point of an oar. Others think it might have a more…obvious meaning. Jimmy Kimmel a US Late Show host is named Honourary Mayor after weeks of broadcasting his passion for Dildo. You can discuss all the theories at the local brewery and museum. Or take a boat tour offering whale-watching, seabird, and iceberg tours in and around beautiful Dildo Island.
Your on your way to your next journey at Whitbourne & the Trans Canada Highway! Thanks for touring with us!